[ Home | Table of Contents | Previous Page | Next Page | Back Issues | Complete Index ]
---

[Here we continue our reprint of Chapter 2 from Richard Baxter's classic tome A Christian Directory.8 This chapter consists of twenty directions to (as Mr. Baxter says) "young Christians or beginners in religion, for their establishment and safe proceeding." Though these studies were written specifically for "young" Christians, I think that you will find (as I have), there is much in here worthy of meditation also for those who have been walking with God for many years.]--Ed.
Direction VI - On Difficulties and Opposition
Be not discouraged at the difficulties and oppositions which will rise up before you, when you begin resolvedly to walk with God.
As discouragements keep off multitudes from religion, so they are great temptations to many young beginners to turn back, and as the Israelites in the wilderness, ready to wish themselves again in Egypt. Three sorts of discouragements arise before them: 1. Some from the nature of the work; 2. Some from God's trials; 3. And some from the malice of the devil and his instruments; Or all these.
1. It cannot be expected but that infants and weaklings should think a little burden heavy, and an easy work or journey to be wearisome. Young beginners are ordinarily puzzled, and at a loss, in every trade, or art, or science. Young scholars have a far harder task, than when they are once well entered: learning is wondrous hard and unpleasant to them, at the first; but when they are once well entered, the knowledge of one thing helps another, and they go on with ease. So a young convert, that hath been bred up in ignorance, and never used to prayer, or to heavenly discourse, nor to hear or join with any that did, will think it strange and hard at first. And those that were used to take their pleasure, and fulfill the desires of the flesh, and perhaps to swear, and talk filthily, or idly, or to lie, will find, at first, some difficulty to overcome their customs, and live a mortified, holy life: yet grace will do it, and prevail. Especially in point of knowledge, and ability of expression, be not too hasty in your expectation, but wait with patience, in a faithful, diligent use of means, and that will be easy and delightful to you afterwards, which before discouraged you with its difficulties.
2. And God Himself will have His servants, and His graces, tried and exercised by difficulties. He never intended us the reward for sitting still; nor the crown of victory, without a fight; nor a fight, without an enemy and opposition. Innocent Adam was unfit for his state of confirmation and reward, till he had been tried by temptation. Therefore the martyrs have the most glorious crown, as having undergone the greatest trial. And shall we presume to murmur at the method of God?
3. And Satan, having liberty to tempt and try us, will quickly raise up storms and waves before us, as soon as we are set to sea; which make young beginners often fear, that they shall never live to reach the haven. He will show thee the greatness of thy former sins, to persuade thee that they shall not be pardoned. He will show thee the strength of thy passions and corruptions, to make thee think they will never be overcome. He will show thee the greatness of the opposition and suffering which thou art like to undergo, to make thee think thou shall never persevere. He will do his worst to meet thee with poverty, losses, crosses, injuries, vexations, persecutions, and cruelties, yea, and unkindness from thy dearest friends, as he did by Job, to make thee think ill of God, or of his service. If he can, he will make them thy enemies that are of thine own household. He will stir up thy own father, or mother, or husband, or wife, or brother, or sister, or children, against thee, to persuade or persecute thee from Christ: therefore Christ tells us, that if we hate not all these, that is, cannot forsake them, and use them as men do hated things, when they would turn us from him, we cannot be his disciples (see Luke 14:26; Matt. 10). Look for the worst that the devil can do against thee, if thou hast once lifted thyself against him, in the army of Christ, and resolvest, whatever it cost thee, to be saved. Read Heb. 11. But how little cause you have to be discouraged, though earth and hell should do their worst, you may perceive by these few considerations:
(1.) God is on your side, who hath all your enemies in His hand, and can rebuke them, or destroy them in a moment. Oh what is the breath or fury of dust or devils, against the Lord Almighty! "If God be for us, who can be against us?" (Rom. 8:31). Read often that chapter, Rom. 8. In the day when thou didst enter into covenant with God, and He with thee, thou didst enter into the most impregnable rock and fortress, and house thyself in that castle of defence, where thou mayest (modestly) defy all adverse powers of earth or hell. If God cannot save thee, He is not God. And if He will not save thee, He must break His covenant. Indeed, He may resolve to save thee, not from affliction and persecution, but in it, and by it. But in all these sufferings you will "be more than conquerors, through Christ that lovelth you" (Rom. 8:37): that is, it is far more desirable and excellent to conquer by patience, in suffering for Christ, than to conquer our persecutors in the field, by force of arms. O think on the saints' triumphant boastings in their God. "God is our refuge and strength, a very present help in trouble: therefore will not we fear, though the earth be removed, and though the mountains be carried into the midst of the sea" (Ps. 46:1-3). When his "enemies were many" and "wrested his words daily," and "fought against him, and all their thoughts were against him," yet he saith, "What time I am afraid, I will trust in thee. In God will I praise His word; in God have I put my trust: I will not fear what flesh can do unto me" (Ps. 56:1-5). Remember Christ's charge: "Fear not them that can kill the body, and after that have no more that they can do. But I will forewarn you whom you shall fear: fear Him, which after He hath killed, hath power to cast into hell; yea, I say unto you, fear Him" (Luke 12:4). If all the world were on thy side, thou might yet have cause to fear; but to have God on thy side, is infinitely more.
(2.) Jesus Christ is the Captain of thy salvation (Heb. 2:10), and hath gone before thee this way himself, and hath conquered for thee; and now is engaged to make thee conqueror: and darest thou not go on where Christ doth lead the way? He was perfected through suffering Himself, and will see that thou be not destroyed by it. Canst thou draw back, when thou seest His steps, and His blood?
(3.) Thou art not to conquer in thy own strength, but by the Spirit of God, and the power of that grace which is sufficient for thee, and His strength which appeareth most in our weakness (see II Cor. 12:9). And "you can do all things through Christ that strengtheneth you" (Phil. 4:13). "Be of good cheer, he hath overcome the world" (John 16:33).
(4.) All that are in heaven have gone this way, and overcome such oppositions and difficulties as these: they were tempted, troubled, scorned, opposed, as well as you; and yet they now triumph in glory. "These are they that come out of great tribulation, and have washed their robes, and made them white in the blood of the Lamb: therefore are they before the throne of God, and serve Him day and night in His temple: and He that sitteth on the throne shall dwell among them" (Rev. 7:14). And all that ever come to heaven (at age) are like to come this way. And doth not the company encourage you? and the success of those that have overcome before you? Will you have the end, and yet refuse the way?
(5.) Consider how much greater difficulties ungodly men go through to hell. They have stronger enemies than you have: the devil and wicked men are your enemies; but God Himself is theirs, and yet they will go on. Men threaten but death to discourage you, and God threateneth damnation to discourage them; and yet they go on, and are not discouraged. And will you be more afraid of man, than sinners are of God? and of death or scorns, than they are of hell?
(6.) Yea, and you yourselves must cast your souls on these greater evils, if by discouragement you turn from the way of godliness. You must run into hell for fear of burning; and upon everlasting death, to escape a temporal death, or less: you will choose God for your enemy, to escape the enmity of man; and how wise a course this is, judge you; when if you do but see that your ways please God, He can "make your enemies be at peace with you," if He see it for your good (see Prov. 16:7). If you will fear, fear Him that can damn the soul.
(7.) Lastly, remember what abundance of mercies you have to sweeten your present life, and to make your burden easy to you: you have all that is good for you in this life, and the promise of everlasting joy; for godliness thus "is profitable to all things" (I Tim. 4:8). What abundance of mercy have you in your bodies, estates, friends, names, or souls, which are the greatest! What promises and experiences to refresh you! What liberty of access to God! A Christ to rejoice in, a heaven to rejoice in! and yet shall a stony or a dirty way discourage you more than these shall comfort you?
The sum of all is, your work will grow easier and sweeter to you, as your skill and strength increase. Your enemies are as grasshoppers before you; the power of the Almighty is engaged by love and promise for your help; and do you pretend to trust in God, and yet will fear the face of man? "I gave my back to the smiters, and my cheeks to them that plucked off the hair: I hid not my face from shame and spitting: for the Lord God will help me; therefore shall I not be confounded, therefore have I set my face like a flint, and I know that I shall not be ashamed. He is near that justifieth me; who will contend with me? Let us stand together: who is mine adversary? let him come near to me. Behold, the Lord God will help me: who is he that shall condemn me? Lo, they all shall wax old as a garment; the moth shall eat them up" (Isa. 50:6-10). "Hearken to me, ye that know righteousness, the people in whose heart is my law; fear ye not the reproach of men, neither be afraid of their revilings: for the moth shall eat them up like a garment, and the worm shall eat them like wool: but my righteousness shall be forever, and my salvation from generation to generation" (Isa. 51:7-8). He is no soldier for Christ, that will turn back for fear of scorns, or of anything that man can do against him.
And consider whether heaven should be [more easily] come to? They are things of unspeakable glory that you strive for; and they are unworthily despised, if anything be thought too good to part with for them, or any labour, or difficulties, or sufferings too great to undergo to procure them.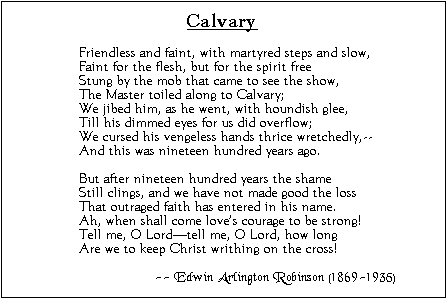 ---
[ Home | Table of Contents | Previous Page | Next Page | Back Issues | Complete Index ]


---